Meditation after eating is a topic that a lot of new practitioners are curious about. The main idea is that you are what you eat. If you eat anything from a piece of meat to a leaf, a chemical reaction occurs in the body to digest it. However, does it really matter...
read more
Slow twitch muscle exercises are crucial for endurance athletes, and many studies show that endurance athletes actually have more slow-twitch vs fast-twitch fibers. Why? Endurance athletes train with: Low resistance High reps It's no secret that if you want to run a...
Fast twitch muscle exercises incorporate your type II muscle fibers, which are responsible for quick bursts of strength. Powerlifters engage more of these fibers because of the way they lift: extremely heavy with explosive movements. If you want to improve your PR or...
If you're going to the gym, training hard and seeing results, you probably don't give much thought to fast twitch muscle fibers vs slow twitch. However, if you want to maximize performance and reach your goals, you need to be able to answer: what is the difference...
Do you have digestive issues or just find your normal source of protein difficult to digest? Then, hydrolyzed protein benefits are perfect for you. Hydrolyzed protein powder comes in whey isolate form, so it's ideal for an after-workout shake or just to add more...
Protein shakes are such an integral part of the fitness world that nearly every trainer will recommend them. Unfortunately, many people think "shakes will make me bulky," but that's not really true, depending on your goals. The benefits of protein shakes after...
Whey, casein, plant, soy – there are a lot of different types of protein. And today, it's time to go over another type you may want to try: pea protein. What are the benefits of pea protein? There are a lot. We're going to review pea protein benefits and provide...
You've saved and dried your seeds from this year's garden. Now what? If you've read our guide on storing seeds, you know that seeds are best stored in a place that's: Cool Dark Dry You may have an excellent location for storage, but what about your seed storage box?...
If you have a backyard garden, there's a good chance that you have at least one type of squash growing either in the summer or fall. In fact, there are more than 100 types of squash. Along with butternut, acorn, zucchini and the beloved pumpkin, you have Hubbard,...
Sunflowers add cheer and beauty to your garden, and even when they reach the end of their lifespan, they still give back by producing tons of edible seeds. A single sunflower can produce a bounty of seeds – 1,000-2,000. You can roast these seeds for snacking or plant...
Imagine having your own pumpkin patch in your backyard – an endless supply of pumpkins for carving and eating every year. Learning how to dry pumpkin seeds for planting and planting your seeds at the right time can make this dream a reality. Drying pumpkin seeds is...
Whether you're saving your own seeds or buying them from a trusted supplier, it's important to ensure that you're storing them properly. Proper storage will help preserve seed quality and viability. But what is the best way to store seeds? How long do seeds last?...
You've harvested seeds from your best plants. Now what? Drying seeds is one of the last steps in your seed-saving adventure, but it's arguably the most important. If your seeds aren't fully dried out, you'll wind up with a moldy mess. To save you from this...
Looking for vegetarian protein snacks? Put those boring protein bars down and give these snacks a try. If you're a vegetarian trying to boost your protein intake, you know how difficult it can be to keep things interesting. These high-protein snacks will give you the...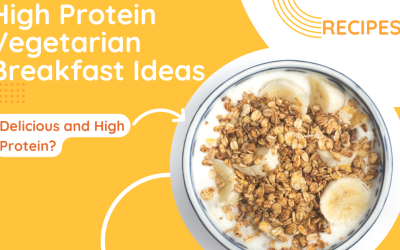 Are you looking for a high protein vegetarian breakfast to eat? Me, too. And while I am not 100% vegetarian, I only eat meat maybe four or five times a year. So, I don't get the extra protein needed from sausage, bacon, steak or any of the other high proteins people...