Looking for vegetarian protein snacks? Put those boring protein bars down and give these snacks a try.
If you're a vegetarian trying to boost your protein intake, you know how difficult it can be to keep things interesting. These high-protein snacks will give you the variety you crave without sacrificing your goals.
8 Vegetarian Protein Snacks
1. Greek Yogurt with Fresh Fruit and Hemp Hearts
Here's a healthy snack that's loaded with protein and other beneficial nutrients:
1 cup of Greek yogurt (17g of protein; 100 calories)
1 tablespoon of hemp hearts (about 3g of protein; about 55 calories)
1/2 cup of fresh fruit (berries, bananas, or peaches are great options)
Add a 1/2 scoop of your favorite protein powder if you want extra protein. Stick to plain, no-fat Greek yogurt to keep your calories in check. Flavored yogurts are loaded with sugar. Fresh fruit will add flavor and subtle sweetness along with fiber.
2. Cottage Cheese
Cottage cheese is another excellent source of protein for vegetarians. In fact, a half-cup of small curd cottage cheese has 12 grams of protein and just 100 calories.
So, cottage cheese is a great option if you're looking for high protein vegetarian snacks that are also low in calories.
Stick with plain cottage cheese and add your own toppings for a satisfying snack any time of day. What's great about this delicious snack is that you can make it sweet or savory. Here are some great mix-ins ideas:
Tomatoes, cucumbers and peppers
Seeds or nuts
Eggs
Salsa
Berries (blueberries, blackberries, raspberries, strawberries, etc.)
Peaches
Plums
Pineapple
Dried cranberries
Chocolate chips or chunks
A drizzle of honey or maple syrup
You can also add a half-scoop of protein for an extra protein boost and flavor.
3. Bean Salad
Beans are healthy protein snacks for vegetarians because they're loaded with plant-based protein and fiber.
For example:
1/2 cup of black beans has 7.6 grams of protein
1/2 cup of split peas has 8.2 grams of protein
1/2 cup of chickpeas has 6.3 grams of protein
While you can buy pre-made bean salad, it's best to make your own at home using simple ingredients. It takes just minutes to put together, and you can easily make enough for a few days.
Here's a simple bean salad recipe that uses healthy ingredients:
2 cans of low-sodium beans (black beans, white beans, chickpeas and fava beans are all great options)
1/2 cup fresh tomatoes, diced or quartered
1 bell pepper
1 cup fresh greens (spinach, kale, chard, etc.)
1 bunch of green onions
1/2 cup feta cheese
Fresh basil, cilantro and/or parsley
Juice from 1 lemon or 1 lime
1 tbsp. olive oil
Salt and pepper to taste
Feel free to add whatever fresh veggies you have on hand. The more colorful the salad, the healthier it will be. And if feta isn't your cup of tea, add parmesan, pecorino or gouda cheese –they're all high in protein.
4. Egg White Muffins
Egg whites are rich in protein and low in calories. In fact, the whites from one egg have four grams of protein and just 18 calories.
Egg white muffins are a great way to add more protein to your diet. Liquid egg whites make it easy to maximize the protein benefits of egg whites without wasting yolks.
Here's a great recipe to try:
The recipe above also includes cottage cheese, which will add extra protein.
5. Protein Bites
Protein bites are a great option if you want a simple snack that can help boost muscle growth and satisfy your sweet tooth. These vegetarian protein snacks are usually no-bake, so they're so easy to put together. And you can make a big batch at once to snack on throughout the week.
Here's a tasty recipe to try:
Strawberry Shortcake Protein Bites
6. Roasted Chickpea Bites
Chickpeas are a staple in a plant-based diet because they have a meaty texture and are rich in protein. But if you roast chickpeas, they turn into a crunchy, satisfying snack that's hard to resist.
Best of all, they're still high in protein and low in calories. So, it's a guilt-free way to add protein and satisfy your need for something crunchy and salty.
Roasting chickpeas is easy, especially if you use canned beans.
Preheat your oven to 450 degrees.
Mix one can of chickpeas with two tablespoons of olive oil and a pinch of salt.
Spread the beans out on a cookie sheet and roast for 20 minutes.
Once your chickpeas are done roasting, you can toss them with spices, herbs or other ingredients for an extra flavor kick.
Here are some ideas:
Lime, ginger, turmeric and black pepper
Nutritional yeast
Paprika, chili powder and maple syrup
Dried onion, thyme, garlic powder, pepper and dill
Cinnamon and sugar
You can also add a handful of nuts or seeds to add some extra protein and healthy fats.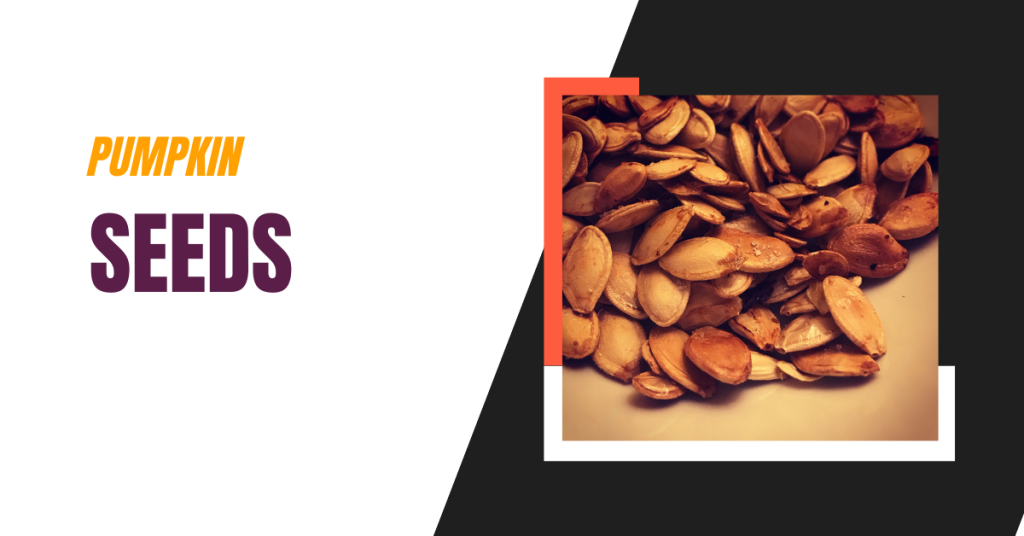 7. Pumpkin Seeds
If you're looking for simple vegetarian snacks with protein, pumpkin seeds are a great option. One ounce of pumpkin seeds has:
163 calories
8.5 grams of protein
13.9 grams of fat
But pumpkin seeds also contain other beneficial nutrients, like zinc, copper, magnesium, iron and selenium.
You can eat a handful of raw or roasted pumpkin seeds for a quick snack on the go.
You can also roast your own pumpkin seeds and add some herbs or spices for flavor. Here are some ideas:
Cinnamon sugar
Salt and pepper
Honey, brown sugar and vanilla
Garlic and fennel
Parmesan cheese and Italian seasoning
8. Apple Slices with Peanut Butter
If you need a simple snack to add to your daily diet, the classic apple and peanut butter is a great go-to option.
Apples are loaded with fiber and other beneficial nutrients. Peanut butter is rich in protein and fat.
Just two tablespoons of peanut butter have:
8 grams of protein
188 calories
16g of fat
If you're not a fan of peanut butter, you can swap in just about any nut butter.
Almond butter has 3.4g protein in 1 tbsp
Sunbutter has 2.8g protein in 1 tbsp
Tahini has 2.6g of protein in 1 tbsp
Keep in mind that while nut butters are rich in protein, they're also high in calories and fat. So, limit yourself to just one or two tablespoons for this snack.
Plant-based protein snacks don't have to be boring. These eight vegetarian snacks are rich in protein and flavor. Add them to your diet to reach your goals without getting bored with your food.